Reading Group Guide
Discussion Questions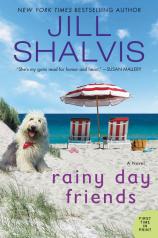 1. What would you do if you found out the person you loved had been living a double life?
2. If Kyle hadn't died, would Lanie have stayed married to him? Would River?
3. Would you be able to be friends with your husband's mistress?
4. After such a big betrayal, would you be able to trust and love another person again?
5. Was Lanie right in running away from her home?
6. What do you think Holden's backstory is?
7. Do you think Lanie and River would want to meet the other women Kyle was "married" to?
8. Do you think Lanie and her mother could ever be close? They made amends somewhat, but could they ever be a real part of each other's lives?
9. If you were in Lanie's position, how would River being pregnant affect your feelings toward her? Would you be able to accept the baby and not be jealous when you had also wanted children?
Rainy Day Friends
by Jill Shalvis
Publication Date: June 19, 2018
Genres: Fiction, Romance, Women's Fiction
Paperback: 384 pages
Publisher: William Morrow Paperbacks
ISBN-10: 0062448145
ISBN-13: 9780062448149