About the Book
About the Book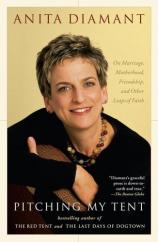 Following the enormous success of her two bestselling novels, The Red Tent and Good Harbor, award-winning author Anita Diamant delivers a book of intimate reflections on the milestones, revelations, and balancing acts of life as a wife, mother, friend, and member of a religious community.
Before The Red Tent, before Good Harbor, before and during six books on contemporary Jewish life, Anita Diamant was a columnist. Over the course of two decades, she wrote essays about friendship and family, work and religion, ultimately creating something of a public diary reflecting the shape and evolution of her life -- as well as the trends of her generation.
Pitching My Tent collects the finest of these essays, all freshly revised, updated, and enriched with new material, forming a cohesive and compelling narrative. Organized into six parts, the shape of the book reflects the general shape of adult life, chronicling its emotional and practical milestones. There are sections on marriage and the nature of family ("Love, Marriage, Baby Carriage"); on the ties that bind mother and child ("My One and Only"); on the demands and rewards of friendship ("The Good Ship"); on the challenges of balancing Jewish and secular calendars ("Time Wise"); on midlife ("In the Middle"); and on what it means to embrace Judaism in today's culture ("Home for the Soul").
Pitching My Tent: On Marriage, Motherhood, Friendship, and Other Leaps of Faith
by Anita Diamant
Publication Date: September 13, 2005
Paperback: 240 pages
Publisher: Scribner
ISBN-10: 0743246179
ISBN-13: 9780743246170