Reading Group Guide
Discussion Questions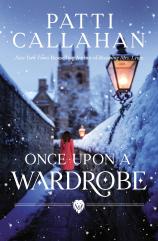 1. Did you ever wonder where Narnia came from?

2. At the start of the novel, Megs Devonshire doesn't care much for made-up stories. Why do you think her heart changed? Have you felt the same? What stories have changed you?
3. George Devonshire is looking for more than facts when he asks about the origin of Narnia. What do you think he is really asking? What does he really want to know?
4. As you read about the seven events in Lewis' life, which one do you think contributed the most to Narnia? Where do you see these events in his life in the pages of THE LION, THE WITCH AND THE WARDROBE?
5. If you could ask C.S. Lewis anything about Narnia, what would it be? Did his stories answer any of those questions for you?
6. How did you feel about the ending of the story? Would you change it if you could? Was it what you expected?
More discussion questions can be found in the back of the book.
Once Upon a Wardrobe
by Patti Callahan Henry, writing as Patti Callahan
Publication Date: October 19, 2021
Genres: Fiction, Historical Fiction
Hardcover: 320 pages
Publisher: Harper Muse
ISBN-10: 0785251723
ISBN-13: 9780785251729