Reading Group Guide
Discussion Questions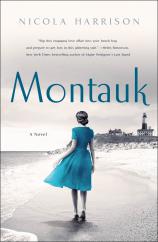 1. What was your initial reaction to Beatrice, and how did your perception of her evolve throughout the book?
2. Do you think Beatrice and Thomas' connection was inevitable, or do you think it was their shared history that solidified it?
3. How do you think Charlie's death affected Beatrice as a friend and a wife?
4. What does Harry's intense business interest in developing Montauk's resort potential reveal about his character when contrasted with Beatrice's own appreciation of the community, which deepens for very different reasons? What do their attitudes toward this setting tell us about the two of them and about the strains in their marriage?
5. Do you think Harry's character evolved over the course of the novel, or does he remain the same?
6. The idea for the novel came to the author after spending many years out in Montauk. Discuss the role that the landscape and atmosphere of the town plays in the novel. If it were not set in Montauk, New York, how would the story have differed?
7. Do you think Montauk was inspired by present-day events? How does the novel parallel similar issues happening today in other small towns/resort towns?
8. Social gatherings play a significant part in the story. How do events like the greasy pig contest and the masquerade ball reflect the shared human needs of the participants, and to what extent do they reveal key differences?
9. Initially captivated by her husband and the seductive glamour, wealth and worldly sophistication he offers, Beatrice is later drawn to the enduring values, dignity and steadfast friendships she finds among the inhabitants of the fishing village. Do you think her own family background influences these dynamics and the choices she ultimately makes? Can you relate to this in some way?
10. Beatrice develops loyal friendships with Elizabeth and Dolly, two women from very different backgrounds. What characteristics do the two women share, and how do they differ? What do these friendships tell us about Beatrice's values?
11. What do you think would have happened if Thomas lived and Harry walked away?
12. Were you satisfied with the book's ending? What do you think the future holds for Beatrice and her baby girl?