Excerpt
Excerpt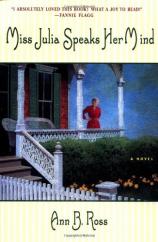 I'd just caught my breath after the shock of my husband's sudden passing when his last legacy showed up on my front porch. We'd buried Wesley Lloyd Springer some few months before that hot, still morning in August, and I hoped I was through signing forms and meeting with lawyers and shuffling through various and sundry legal papers. I declare, this business of dying has more legal aspects to it than you would think. The deceased never knows what you have to go through to get his affairs in order, and Wesley Lloyd's were in as much order as they could get. I thought.
Lord, it was hot that morning, and I recalled again how Wesley Lloyd had always put his foot down about air-conditioning the house, even when the Conovers had theirs done. Central air, too. Wesley Lloyd said it was a waste of money and, besides, fresh air was good for us. He felt that way only at home, though, because his office at the bank was kept cool enough for the threepiece suits he wore day in and day out. But I don't believe in speaking ill of the dead, even when it's the truth.
So I was sitting in my living room trying to get my mind off the heat by looking through a stack of mail-order catalogs. Making a list of the items I intended to call in for and having a good time doing it, since Binkie Enloe'd said I needed to spend some, money. Sam Murdoch had agreed, and he ought've known since he was the executor of the will that had put me in my present more-than-comfortable position. Lord, there was more money than I ever knew Wesley Lloyd had, and it all belonged to me, his grieving widow. But a proud widow, too, and justly so, because I'd made such a fine and fortunate choice of husbands.
But I tell you, I thought I'd never get over the shock of finding Wesley Lloyd dead as a doornail, slumped over the steering wheel of his new Buick Park Avenue. Steel gray with plush upholstery, parked right out there in the driveway.
But I did, laying him to rest in a properly ordered Presbyterian ceremony as he would've expected. Then I had to suffer another shock when I found out how well-off Wesley Lloyd had been. Why, besides the bank his daddy'd left him, he owned half the county, seemed like, plus stocks and bonds and tax-deferred annuities, all of it making more and more money every day of the week. When the extent of his estate was laid out for me, all I could think of was how he used to hand me a housekeeping allowance every Friday, saying, "Make it last, Julia. Money doesn't grow on trees, you know." And all the time he was cultivating a whole grove! Well, a lot of good it did him, because I ended up with every penny.
Now, after forty-four years in blissful ignorance of Wesley Lloyd's activities, financial and otherwise, I had settled down to enjoy the benefits of widowhood and a full checkbook, both of which I was mastering with hardly any problems to speak of.
I looked out the window as a few cars passed by on Polk Street, headed down to Main. I declare, everybody and his brother seemed to have a telephone glued to his ear, though this town's not big enough to need BellSouth whenever you drive to the grocery store. Across the street the parking lot spread from Polk to the back of the First Presbyterian Church of Abbotsville, my church and the one Wesley Lloyd and his father, before him, had supported with their presence, tithes, offerings, and over-and-above donations. Advice, too, which was always taken but not always appreciated. Heat waves shimmered up from the asphalt lot as I took note of whose cars were parked over there. It was my custom to keep up with what went on around me and, since Mondays were Pastor Ledbetter's days off, I couldn't be blamed for wondering why he was meeting with several men on the session at the church. But far be it from me to be nosy.
I could hear Lillian humming along with the radio above the occasional clatter of pans out in the kitchen as she prepared my lunch. That was another thing that was different, now that Wesley Lloyd wouldn't be home for meals anymore. He'd liked a quiet house, meals served on time, and everything done right on schedule. I had already begun to enjoy a little freedom from that schedule, telling Lillian that we'd eat whenever either of us got hungry or she got the urge to put something on the table.
I licked a finger and turned a page in the Neiman Marcus Christmas catalog, wondering what Sam and Binkie would say if I ordered a few trinkets from it. I declare, some of the offerings were for people with more money than sense, a condition that didn't apply to me, I'm happy to say. I expect, though, that any number of people would've said it did if they'd known the full extent of Wesley Lloyd's prudence and foresight.
However. His prudence and foresight hadn't taken heart attacks into account. I knew as sure as I was sitting there he never intended to leave me in charge of everything he owned. I knew it as soon as Pastor Ledbetter came sidling up to me not two days after laying Wesley Lloyd to rest, telling me he knew I'd want to 'honor Mr. Springer's last wishes even if they'd never gotten written down. That was the first I'd heard that Wesley Lloyd had planned to make the First Presbyterian Church. . .
Miss Julia Speaks Her Mind
by by Ann B. Ross
paperback: 288 pages
Publisher: William Morrow Paperbacks
ISBN-10: 0688177751
ISBN-13: 9780688177751