Excerpt
Excerpt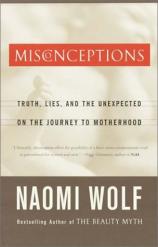 Afterword to the Anchor Edition
The book you have read is the frankest possible account I could write about the struggles—as well as the joys—of adjusting to pregnancy and new motherhood. Misconceptions ends with the birth of my first baby, and an epilogue describes the birth of the second. Since the book was first published, so many readers have asked me heartfelt questions that I'm glad to have a chance to answer them in this new afterword.
My journey toward motherhood was at times a bumpy one; at certain moments it shook my very sense of self. For me, it was important to tell that story raw, unvarnished by retrospection. I lifted the dark moments as well as the light ones straight from a journal I kept at the time, and did not shy away from describing what I felt when I felt it. I wanted to be honest about the challenges of the journey—brutally honest, some would say—for two reasons. One is that so many people told me that time and love soften your memories of what you experience when pregnant for the first time, and I wanted the book to be unmediated by the mother love that would now never let me write about pregnancy—or remember it—the way I lived it. The other reason is that I wanted to write the book I could not find on the shelves when I was pregnant and a new mother—the book that would reassure me that I was normal and that my struggles were part of the preparation that many of us share as this amazing and humbling, and also ferocious and unnerving, force takes over a life.
When I describe my pregnancy, for instance, I ask, Who will I become? As it turned out, with motherhood I became a wiser, more patient, and I hope more compassionate person. In some ways motherhood is the best thing that ever happened to me. But when I was pregnant I did not know how that could be, and I believe it is important to honor the questions of the pregnant woman as one identity makes room for another, "mother" identity to be born.
One question readers have asked with some urgency is: What happened next? After the book ends? Meaning, I believe—Did it all work out? Readers who are pregnant or readers who have just had new babies want to know what life after my tough adjustment period has been like for me.
I owe them quite a lot of reassurance. Like the mothers I interviewed, I found the entry into motherhood a wild and sometimes overwhelmingly difficult rite of passage. Yet, the view from the other side is far more serene. The ending has been truly a happy one. Like besotted parents everywhere, I am, of course, hopelessly in love with our two children. As in any love affair, you think the details of your own love relationship are unique, your own beloved beyond compare. If I were to describe the firm conviction I have that there have never been two children more marvelous than our two, you would, if you were a parent already, of course understand, even if you couldn't agree because you felt the same way about your own children.
With the perspective of time and distance, as well as so many rather worried questions from pregnant women, I want to clarify that my subject is the journey of pregnancy and new motherhood, not the destination of being a family with children. My focus is the treacherous waters between the shore of being not—yet—a—mother—(there is not even a word for it!) and the solidity of readjustment, as well as the knock-out, who knew, what-was-my- life-before-I-met-you love, that awaits the new mom on the other side. Still, I feel more strongly than ever that new mothers and new parents are best served by knowing what the dangers are—and knowing how best to traverse them. New mothers, new fathers, and new grandparents, too, have told me that they feel better prepared to welcome a baby, or better able to prepare someone they love to welcome a baby, by learning of or being reminded of, that difficult passage. All the readers who contacted me heartily agreed that a woman is not a mother just because she has had a baby, a mother is not born when a baby is born; a mother is forged, made.
Though hundreds of readers who passed the book to their friends seem to have felt it captured aspects of their true experience, other voices took issue with what I had to say. One common early complaint was that I—along with the women I interviewed— was "whining." If complaining about something that is difficult or taxing, or expressing fatigue, loneliness, or sadness, or even at times feeling overwhelmed and sorry for oneself and saying so, is "whining," we are certainly sometimes doing that. The complaint fascinates me because in the interviews I did for the book, once it became clear that I was open to hearing about the negative as well as positive emotions of pregnant women and new mothers, I could not stop the well of complaints from overflowing—and these were sane, stable, loving, reasonably well-adjusted women who loved their children and their men.
When Oprah recently devoted a show to new mothers who were encouraged to express both positive and negative feelings about their experiences, the post-show response broke records. Women clearly welcome the opportunity to express the full range of their opinions. My original premise has been confirmed: there is a taboo against the very idea of complaining about anything relating to motherhood. Not, as it turned out, that there is nothing legitimate to complain about, but, it appears, because complaining about motherhood is a subversive and destabilizing act.
Because if mothers complain, what next? Next they will be demanding flextime and maternity benefits, equal help from men, and reform of the medical system. I am glad to say that that taboo is gradually lifting. Misconceptions is part of a wave of books and articles, fiction and nonfiction, even a documentary, that dare to show the shadows as well as the light in the image and reality of motherhood.
Some critics have been concerned that the women here illustrate majority, not minority experiences. To that charge I plead guilty. I wanted to assess the experience of birth and family life that most women in America would have. In our country, eighty percent of women call themselves middle class. Ninety-eight percent give birth in hospitals; eighty percent have medical insurance. I did indeed piece together my aggregate of birth experiences from this core group. I should have been clearer that this was my intention. The births of women who are not in a hospital or who are not insured are different enough from the mainstream experience that the subject requires another approach and another book. Similarly, some have objected to the fact that most of the new parents I look at in Misconceptions are men and women in a marriage. I look at men and women in marriage, with a new baby, not because I want to slight lesbian mothers, single mothers or teen mothers, but because I want to write about men and women in relationship with one another, to look at new mothers and fathers in families and how their gender, when a new baby comes, can wrench them apart. The issues facing lesbian couples, single mothers, and teen mothers may be even more complex, but I respect the diversity of women too much to shoehorn very diverse situations into one argument; these families, too, deserve a book of their own.
What has changed since Misconceptions was published? In the wave of all these new voices, we have begun a long-overdue conversation, in which we can tell a bit more truth than we used to feel was permissible. Has there been wholesale reform of the medical complex that drives US women into terrible births? No, just as wholesale reform did not attend expos
Misconceptions: Truth, Lies, and the Unexpected on the Journey to Motherhood
by by Naomi Wolf
paperback: 352 pages
Publisher: Anchor
ISBN-10: 0385497458
ISBN-13: 9780385497459