About the Book
About the Book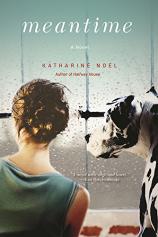 Katharine Noel --- the award-winning, critically acclaimed author of HALFWAY-HOUSE --- returns with a wise and moving second novel about the bond between two sisters whose stable lives are suddenly uprooted.
Claire Hood has never had a typical upbringing. When she was nine, her father fell in love with a married woman, and the two households agreed to live under one roof. Nicknamed "the Naked Family," they were infamous in the community for their eccentric, free-spirited lifestyle. Now, Claire and her stepsister Nicole are both in their 30s and living in San Francisco. Nicole has set her mind to having a baby on her own, and Claire's husband, Jeremy, longs to start a family as well. But Claire wants to avoid an ordinary existence at all costs.
When Jeremy becomes seriously ill, his high school sweetheart, Gita, is a bit too eager to lend a hand in his recovery. As Claire's suspicion of their relationship grows, she feels increasingly distant not only from the people she loves, but also from the kind of person she'd imagined herself to be. Faced with Nicole's impending motherhood and Jeremy's increasing closeness with his ex, Claire must resolve lingering childhood hang-ups and decide what she's willing to sacrifice for independence.
MEANTIME is a heartfelt, insightful story of how individuals shape and reshape their families while discovering their truest sense of self. With humanity, grace and humor, Katharine Noel examines the complex, delicate connections between spouses, siblings, parents and children.
Meantime
by Katharine Noel
Publication Date: November 1, 2016
Genres: Fiction
Paperback: 288 pages
Publisher: Grove Press, Black Cat
ISBN-10: 0802125492
ISBN-13: 9780802125491