Reading Group Guide
Discussion Questions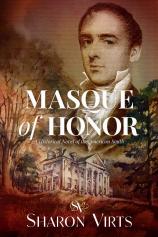 1. What does the title "Masque of Honor" convey about this novel?
2. So many of the main characters lost their fathers. Discuss the impact of this early loss on the lives of Armistead, Jack and Lucinda.
3. Power and position were clear drivers of Armistead's ambition. What was important to Jack, and how did his motivation and perspective put him at odds with his cousin?
4. Who bears the greater responsibility for the feud, Jack or Armistead? Why could they not let the conflict go? What was at stake?
5. What symbolism do the jackets worn by the characters represent in the book? William's coat with the McCarty family crest? The jacket of Armistead's uniform? Armistead's overcoat with the heavy skirts?
6. How would you contrast the influences that Sally and Polly had on the lives of their children? How did those influences play out on Armistead and Jack in particular?
7. What impact did Jack's trip to Natchez have on his outlook on life?
8. How important was Emily's role in Jack and Lucinda's relationship and within the family dynamic overall?
9. When Jack observes the orphans playing in New York, he asks himself two questions: "Was I ever that happy" and "Why not?" What do you think was the answer to his second question?
10. Forgiveness is an important theme in the book. What impact does the act of forgiveness have on the characters and the story?
» Click here for the enhanced book club guide, which includes "Behind the Book" material, food and drink recipes, and more.
Masque of Honor: A Historical Novel of the American South
by Sharon Virts
Publication Date: February 9, 2021
Genres: Fiction, Historical Fiction
Hardcover: 400 pages
Publisher: RosettaBooks
ISBN-10: 1948122707
ISBN-13: 9781948122702