Reading Group Guide
Discussion Questions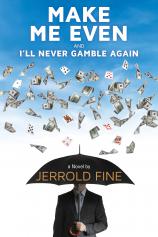 1. MAKE ME EVEN AND I'LL NEVER GAMBLE AGAIN is about one man's coming of age, from the Midwest to the Ivy League, Wall Street and beyond. How does the clever protagonist Rogers Stout incorporate his love of poker and baseball to his advantage in the financial world?

2. In the first few pages, Rogers' dad, Dr. Stout, sits him down to have the "talk" about his future. Do you remember a time in your life when you had a serious talk like this with a parent? If so, what about that talk stuck with you?

3. An alternate title for this novel could well have been "A Young Man and His Mentors." Of the many people in Rogers' life who mentored him, who do you think was the most influential and why?

4. Why do you think Rogers returns again and again to seek out advice from Ronnie Davis? Did you ever sense competition between the two friends?

5. What do you think of the relationship between Rogers and his father? What impact did his mother's death have on their family?

6. Financial whiz and influential professor Bates MacNeer lectures his students that the one crucial thing necessary to succeed is "judgment." Do you agree? How does Rogers prove this point?

7. Rogers goes out on a limb for his assignment concerning the Gulf-Pecos merger. What about his handling of this demonstrates his ability to be successful on Wall Street?

8. During college and his early days on Wall Street, Rogers has romantic relationships with Charlotte and Elsbeth. What do you think he gains from each relationship?

9. Did you ever have a teacher like Bates MacNeer or mentors like Ambrose Burr or Ezra? If so, what part did they play in your life?

10. Were you surprised at Rogers' review at BAM toward the end of the book? What was the "life lesson" he gleaned from that experience?

11. Do you follow the stock market at all, or was MAKE ME EVEN AND I'LL NEVER GAMBLE AGAIN a learning experience for you? After reading the book, are you curious to learn more about the financial world?
Make Me Even and I'll Never Gamble Again
by Jerrold Fine
Publication Date: August 14, 2018
Genres: Fiction
Hardcover: 312 pages
Publisher: RosettaBooks
ISBN-10: 1948122057
ISBN-13: 9781948122054