About the Book
About the Book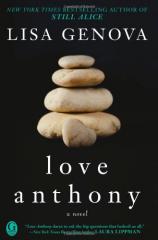 From the New York Times bestselling author of STILL ALICE comes her heartfelt new novel about two women, each on the verge of change, who meet by accident on a Nantucket beach and are drawn to one another in friendship by their mutual need to make sense of their past, put it behind them, and grow.
Olivia is a young mother coping with the loss of her young autistic son. She comes to the island to separate herself from the life she led as wife and mother, and to start fresh, even as she tries to make sense of her tragedy --- mainly, why was Anthony born autistic, only to live such a short life?
Beth, a stay-at-home mother of three, is struggling with a separation after discovering her husband's long-term infidelity. To bring order to her tumultuous feelings, she rekindles a passion for writing, determined to find her own voice again. But curiously as she does so, Beth also find herself channeling the voice of an unknown autistic boy, exuberant in his perceptions of the world around him--a voice she can share with Olivia --- is it Anthony? --- that brings comfort and meaning to her.
Love Anthony
by Lisa Genova
Publication Date: April 2, 2013
Genres: Fiction
Paperback: 336 pages
Publisher: Gallery Books
ISBN-10: 143916469X
ISBN-13: 9781439164693