Reading Group Guide
Discussion Questions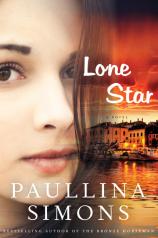 1. What do you think the title LONE STAR means?
2. What would it take to separate from someone who caused as much pain as Johnny had? Can you help someone who's hell-bent on self-destruction? How?
3. What role does music play in the story?
4. Quote from book: Discuss. Do you agree or disagree?
a. "Everything is a love story."
b. "One day is enough for us to know all happiness."
c. "Is it better to be lost and not know you're lost, or to be lost and desperately try
to find your way out?"
d. "There is something to see every place you look."
e. "What single thing gives your life meaning that death does not destroy?"
5. What country/city/place is your Barcelona? Discuss.
6. Have you ever had a traveling experience that went wrong? How? Discuss.
7. Should you wait? What if he doesn't come back? Should you not wait? What if he does? And what's worse?
Lone Star
by Paullina Simons
Publication Date: November 24, 2015
Genres: Fiction, Historical Fiction
Paperback: 640 pages
Publisher: William Morrow Paperbacks
ISBN-10: 0062098152
ISBN-13: 9780062098153