About the Book
About the Book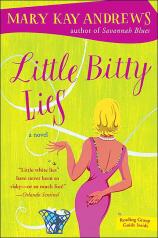 In a suburban Atlanta neighborhood where divorce is as rampant as kudzu, Mary Bliss McGowan doesn't notice that her own marriage is in trouble until the summer night she finds a note from her husband, telling her he's gone -- and taken the family fortune with him.
Stunned and humiliated, a desperate Mary Bliss, left behind with her seventeen-year-old daughter, Erin, and a mountain of debt, decides to salvage what's left of her life by telling one little bitty lie.
At first, Mary Bliss simply tells friends and family that Parker is out of town on a consulting job. Then the lies start to snowball, until Parker turns up dead. Or does he?
Mary Bliss's formerly staid existence careens into overdrive as she copes with an oversexed teenager, a mother-in-law with Ethel Merman delusions, and the sudden but delicious shock of finding herself pursued by two men: the next-door neighbor who's looking for a suitable second wife, and a dangerously attractive ex-cop who's looking for the truth about Parker McGowan.
Little Bitty Lies is a comic Southern novel about all the important things in life: marriage and divorce, mothers and daughters, friendship and betrayal, small-town secrets, and one woman's lifelong quest for home -- and the perfect recipe for chicken salad.
Little Bitty Lies
by Mary Kay Andrews
Publication Date: May 25, 2004
Genres: Fiction
Paperback: 464 pages
Publisher: Harper Paperbacks
ISBN-10: 0060566698
ISBN-13: 9780060566692