About the Book
About the Book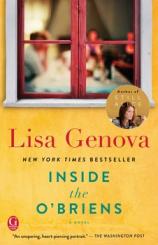 Joe O'Brien is a 44-year-old Boston police officer from the Irish Catholic neighborhood of Charlestown, Massachusetts. A devoted husband, a proud father of four children in their 20s, and a respected, seasoned law enforcement officer, Joe begins experiencing bouts of disorganized thinking, uncharacteristic temper outbursts and strange, involuntary movements. He initially attributes these episodes to aging and the cumulative physical and psychological stress of his job, but as these symptoms worsen, he agrees to see a neurologist and is handed a diagnosis that will change his and his family's life forever: Huntington's disease.
Huntington's is a lethal neurodegenerative disease with no treatment that affects the progression and no cure. And it is genetic. Each of Joe's four children has a 50 percent chance of inheriting their father's disease, and a simple blood test can reveal their genetic fate. While watching their potential future in their father's escalating symptoms, each child struggles with the questions this test imposes on their young adult lives, including his youngest, 21-year-old Katie. Does she want to know? What if she's gene positive? Can she live with the constant anxiety of not knowing?
As Joe's symptoms worsen and he's eventually stripped of his badge and more, Joe struggles to maintain his identity and sense of purpose. How can he find hope in a situation that feels hopeless? How can he find courage without any armor or weapons? What else might he be able to pass down to his children other than a fatal disease? Where is the honor in living and dying with Huntington's? Each family member must reach deep inside, reexamine their values and the relationships that matter most as they learn to lead lives not defined by fear, but instead, by love.
Praised for writing that "explores the resilience of the human spirit" (The San Francisco Chronicle), Lisa Genova has once again established her talent with INSIDE THE O'BRIENS, a novel as powerful and unforgettable as the human insights at its core.
Inside the O'Briens
by Lisa Genova
Publication Date: January 5, 2016
Genres: Fiction, Women's Fiction
Paperback: 368 pages
Publisher: Gallery Books
ISBN-10: 1476717796
ISBN-13: 9781476717791