About the Book
About the Book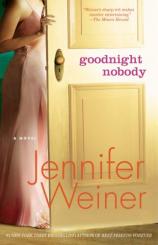 Life in suburban Upchurch is anything but picturesque for Kate Klein. Along with three small children and a husband who is hardly at home, Kate has to contend with living up to the standards set by her fellow Upchurch mothers. They're designer-clad, perfectly coiffed---at the playground---and feed their kids organic food. They make motherhood look effortless while Kate, with uncombed hair and a stash of bribe lollipops, "hasn't done one single thing right" since moving from Manhattan to this small Connecticut town.
When Kate arrives for lunch at the home of Kitty Cavanaugh and finds the Upchurch mom murdered, she's jolted from her malaise and sets out to uncover the killer. As her investigation heats up, Kate finds out not only that Kitty had a few dark secrets but that they had a mutual acquaintance---a man from Kate's past who will lead her to reexamine the life she's chosen.
In Goodnight Nobody, Jennifer Weiner brings together two compelling tales---an engrossing murder mystery and a poignant story about one woman's quest to save her sanity and sense of self amidst the challenges of motherhood, marriage, and suburbia.