Excerpt
Excerpt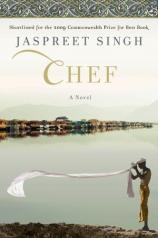 For a long time now I have stayed away from certain people.
I was late getting to the station and almost missed the Express because of the American President. His motorcade was passing the Red Fort, not far from the railway terminal.
The President is visiting India to sign the nuclear deal. He is staying at the Hotel Taj and the chefs at the hotel have invented a new kebab in his honor. All this in today's paper.
Rarely does one see the photo of a kebab on the front page. It made my mouth water.
Not far from me, a little girl is sitting on the aisle seat. A peach glows in her hand. Moments ago she asked her mother, What do we miss the most when we die? And I almost responded. But her mother put a thick fi nger on her lips: Shh, children should not talk about death, and she looked at me for a brief second, apologetically. Food, I almost said to the girl. We miss peaches, strawberries, delicacies like Sandhurst curry, kebab pasanda and rogan josh. The dead do not eat marzipan. The smell of bakeries torments them day and night.
Something about this exchange between mother and daughter has upset me. I look out the window. The train is cutting through villages. I don't even know their names. But the swaying yellow mustard fi elds and the growing darkness fills me with disquiet about the time I resigned from the army. I fi nd myself asking the same question over and over again. Why did I allow my life to take a wrong turn?
Fourteen years ago I used to work as chef at the General's residence in Kashmir. I remember the fruit orchard by the kitchen window. For fi ve straight years I cooked for him in that kitchen, then suddenly handed in my resignation and moved to Delhi. I never married. I cook for my mother. Now after a span of fourteen years I am returning to Kashmir. It is not that in all these years I was not tempted to return. The temptation was at times intense, especially when I heard about the quake and the rubble it left behind. But the earth shook mostly on the enemy side. During my fi ve years of service I was confi ned to the Indian side – the more beautiful side.
The beauty is still embedded in my brain. It is the kind that cannot be shared with others. Most important things in our lives, like recipes, cannot be shared. They remain within us with a dash of this and a whiff of that and trouble our bones.
The tumor is in your brain, said the specialist. (Last week exactly at three o'clock my CAT scan results came back to the clinic. The dark scan looked quite something inside thatbox of bright light.) His fi nger pointed towards an area which resembled a patch of snow, and next to it was a horrifying shape like the dark rings of a tree. Three months to a year maximum, he said. Suddenly I felt very weak and dizzy. My voice disintegrated. The world around me started withering.
I walked the crowded street back home. Cutting through my own cloud, stepping through the fog. My mother greeted me at the door. She knew. My mother already knew. She (who cooked every meal for me when I was young) knew what I did not know myself. She handed me a letter, and slowly walked to her bed.
The letter was postmarked Kashmir. After fourteen years General Sahib fi nally mailed the letter, and that thin piece of paper delighted me and brought tears to my eyes. His daughter is getting married. In hurriedly scribbled lines he requested me to be the chef for the wedding banquet.
I read the letter a second time, sitting at the kitchen table. My answer was obviously going to be a no. I was not even planning to respond. I felt dizzy. But in the evening while preparing soup I changed my mind. I make all big decisions while cooking. Mother is bedridden most of the time and I served as usual in her room at eight in the evening. I did not reveal the trouble brewing in my brain. During dinner I simply read her the General's letter.
'Are you sure?' she asked. 'You want to go?'
'Of course,' I said. 'It is impossible to say no.'
Dear Kip,
Several times in the past I thought of writing to you, but I did not. You know me well, my whole life in the army has been geared to eliminate what is from a practical stand point non-essential.
My daughter (whom you last saw as a child) is getting married, and she is the one who forced me to write this letter. I have heard that your mother is sick, but this is a very important event in our life, and we would like you to be the chef at the wedding. I do not want some new duffer to spoil it.
You are the man for this emergency. I want to see you and I am tired and have much to talk over and plan with you. This wedding feast is perhaps my last battle and I would like for us to win it. I am sure you will not disappoint me.
Yours affectionately,
Lt. General Ashwini Kumar (Retired), VrC, AVSM, PVSM.
Former GOC-in-C, Northern Command.
The General's daughter used to call me 'Kip-Ing' (instead of Kirpal Singh). Since then 'Kip' has stuck. In the army everyone has a second name. General Sahib's nickname was 'Red', but it was rarely mentioned in his presence.
'How many days will you spend there?' Mother asked.
'Seven,' I said. 'Seven or eight days. I must go, Mother.
The neighbor will take care of you. Eating someone else's food will do you good.'
Mother did not finish the dal soup. Her frail head rested on two white pillows and she held my arm as if we were not going to see each other again.
I urged her to take the yellow tablets and capsules.
She agreed only after I raised my voice. I rarely raise my voice in the presence of Mother. Something inside me was def nitely changing.
It was then I showed her the wedding card:
Rubiya Kumar weds Shahid Lone
'So the General's daughter has decided to marry a Muslim?' she asked.
'Not just a Muslim,' I added, 'but one from the other side of the border.'
Let me put this straight. Sahib is not prejudiced against the Muslims. There were Muslim soldiers in our regiment, and he never once discriminated against any of them to my knowledge. But, of course, General Sahib is not pleased with the wedding. I have read the letter twice, and I sense his hands must have been shaking when he held the pen.
Sahib gave his youth to our nation to keep the Pakistanis away, he fought two wars, and now his own daughter is marrying one of them. Did so many soldiers lose their lives for one big nothing?
This train is moving slower than a mountain mule. The engine is old, I know. It resembles me in many ways. But the railway-wallahs insist on calling it an Express. I readjust my glasses, and my gaze drifts from one fuzzy face to another. They will last longer than me – the ears and eyes and noses of other people. Faint scent of pickles fi lls the compartment. Loud and hazy conversations. Flies have started hovering over the little girl's peach.
Once I prepare the perfect wedding banquet, General Sahib will refer me to top specialists in the military hospital, and they will start treatment right away. I have a high regard for military doctors. For my mother's sake, I must live a little longer. I don't know why I raised my voice in her presence.
She needs me more than ever. I must live a little bit longer. Perhaps it was simply the selfi sh wish to live just a little bit longer that made me change my mind.
But things must sort out fi rst. Before I begin work for the wedding I want the General to sort out things between us. For the last fourteen years every day I expected a letter from him. And now the wait is over, the letter is in my pocket. I had expected the letter to be heavy, to carry the entire weight of our past, but he offered me nothing. No explanation. I want him to sort out things between us. Not pretend as if there had been a simple misunderstanding.
I still remember the day I had arrived in Kashmir the first time. The mountains and lakes were covered with thick fog. I was nineteen. And I had bought a second-class ticket on this very train. For some reason I remember the train moved faster then.
Chef
by by Jaspreet Singh
Genres: Fiction
paperback: 256 pages
Publisher: Bloomsbury USA
ISBN-10: 1608190854
ISBN-13: 9781608190850