Reading Group Guide
Discussion Questions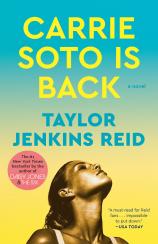 1. How would you describe CARRIE SOTO IS BACK to a friend? What would you consider as its major themes?
2. Describe the character Carrie Soto in three words. If you had the opportunity to change one thing about her, what would it be and why?
3. Discuss the media's treatment of Carrie Soto. Early on, journalists called her "The Battle Axe." How much do you think that was warranted? How are the male and female players treated differently in the press?
4. Who were some of your favorite characters in the novel and why? Were there characters you considered villains? Why or why not?
5. What makes Carrie's bond with her father so strong?
6. When Carrie's dad presses her about dating Bowe, she responds: "I'm not dating anyone. You can pretty much always assume that." What's your theory on why Carrie refrains from any sort of romantic life?
7. Carrie sees tennis as a world of winners and losers. What do you think of that view? How can such an outlook be beneficial, and how could it be detrimental?
8. Nicki Chan takes up a lot of real estate in Carrie's head. How do their styles differ, both on the court and in life? What do you think Carrie learned from Nicki?
9. Aside from Nicki, which of Carrie's rivals did you most enjoy seeing her play against? Were there any of her competitors you felt drawn to, or repelled by? Please explain.
10. Melbourne. Paris. London. New York. If you could watch Carrie Soto play in one venue, which would it be and why?
11. In the entrance hall at Centre Court at Wimbledon, there is an inscription above the doors and a quote from "If—," a poem by Rudyard Kipling: "If you can meet with Triumph and Disaster / And treat those two imposters the same . . ." What does this quote mean to you?
12. When Javier is coaching Bowe, he suggests more of an open stance, to which Bowe responds: "I'm not messing with my footwork now.... I just beat one of the greatest players in the world with my stance." Javier then says, "Good is the enemy of great." What do you think Javier means by that observation?
13. The tabloids were vicious, leading Carrie to posit: "I should never let on how much I wanted to win or, worse, that I believed I deserved to win." What's your take on how the media in the novel presented Carrie's story?
14. How did Carrie's relationship to Bowe change her life? How did it change his?
15. CARRIE SOTO IS BACK is very cinematic. Who would you cast for the movie in the roles of Carrie, Bowe, Javier and Nicki Chan?
16. What is the greatest thing Carrie Soto has learned by the end of the novel?