About the Book
About the Book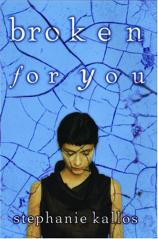 Broken for You is a debut novel of infinite charm and tremendous heart that explores the risks and rewards of human connection, and the hidden strength behind things that only seem fragile. With a riotous energy that recalls the works of John Irving and Anne Tyler, Kallos brings to life a delightful set of characters --- among them an old woman who converses regularly with her porcelain collection; a young woman who can fix a leaky sink but can't stop her own tears from falling; a Yeats-loving bowling enthusiast; and a woman who survived a world war with her sense of humor (and her affinity for Hawaiian shirts) intact.
When we meet septuagenarian Margaret Hughes, she is living alone in a mansion in Seattle with only a massive collection of valuable antiques for company. Enter Wanda Schultz, a young woman with a broken heart who has come west to search for her wayward boyfriend. Both women are guarding dark secrets and have spent many years building up protective armor against the outside world. But as the two begin their tentative dance of friendship, the armor begins to fall away and Margaret opens her house to the younger woman. This launches a series of remarkable and unanticipated events, leading Margaret to discover a way to redeem her cursed past, and Wanda to learn the true purpose of her cross-country journey. Along the way, a famous mosaic artist is born, a Holocaust survivor is reunited with her long-lost tea set, and a sad-eyed drifter finds his long-lost daughter.
Funny, heartbreaking, and alive with a potpourri of eccentric and irresistible characters, Broken for You is a testament to the saving graces of surrogate families, and shows how far the tiniest repair jobs can go in righting the world's wrongs.
Broken for You
by Stephanie Kallos
Publication Date: August 23, 2004
Genres: Fiction
Hardcover: 384 pages
Publisher: Grove Press
ISBN-10: 0802117791
ISBN-13: 9780802117793