About the Book
About the Book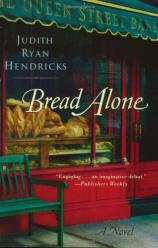 The painstaking process of mixing, kneading, and baking bread may not seem an apt pastime for a woman as acerbic and impulsive as Wynter Morrison. Since graduation from college she has bounced from job to job and man to man, finally ending up as a trophy wife in a posh Los Angeles suburb. She drives a nice car, eats at elegant restaurants, dresses in beautiful clothes, and rubs elbows with high society. But it soon becomes clear that she's been floating through this life. She's happier in jeans than in Chanel, likes walking in the rain more than sitting in traffic, and would rather tear into a hot loaf of sourdough than pick at a fancy salad.
It takes a hurtful wakeup call from her husband to make Wynter aware that their life together is not working. It also takes more than a few self-destructive drinking binges, tantrums, and harsh words for Wyn to realize that the people who truly love her aren't always going to tell her what she wants to hear. Finally, it takes the pain, and then comfort, of solitude to show Wyn that she can be beautiful even in a flour-covered apron; that she can turn an empty shack into a home; that settling into an easy relationship can feel like a "mink padded cell"; that her father wasn't the prince she thought he was; that she and her mother are two different people; and that she can find peace and satisfaction in a job where she is needed and appreciated.
Bread Alone is a novel every woman can savor and learn from. It's filled with recipes for happiness, as well as for delicious foods, and it's made even more irresistible by a secret ingredient: a headstrong, sharp-witted heroine who's as rewarding and real as a loaf of truly good bread.
Bread Alone: A Novel
by Judith Ryan Hendricks
Publication Date: May 28, 2002
Paperback: 368 pages
Publisher: William Morrow Paperbacks
ISBN-10: 0060084405
ISBN-13: 9780060084400