About the Book
About the Book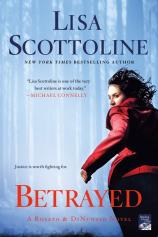 Blockbuster author Lisa Scottoline returns to the Rosato & Associates law firm with BETRAYED, and maverick lawyer Judy Carrier takes the lead in a case that's more personal than ever. Judy has always championed the underdog, so when Iris, the housekeeper and best friend of Judy's beloved Aunt Barb, is found dead of an apparent heart attack, Judy begins to suspect foul play. The circumstances of the death leave Judy with more questions than answers, and never before has murder struck so close to home.
In the meantime, Judy's own life roils with emotional and professional upheaval. She doesn't play well with her boss, Bennie Rosato, which jeopardizes her making partner at the firm. Not only that, her best friend Mary DiNunzio is planning a wedding, leaving Judy feeling left behind, as well as newly unhappy in her relationship with her live-in boyfriend Frank.
Judy sets her own drama aside and begins an investigation of Iris's murder, then discovers a shocking truth that confounds her expectations and leads her in a completely different direction. She finds herself plunged into a shadowy world of people who are so desperate that they cannot go to the police, and where others are so ruthless that they prey on vulnerability. Judy finds strength within herself to try to get justice for Iris and her aunt --- but it comes at a terrible price.