Reading Group Guide
Discussion Questions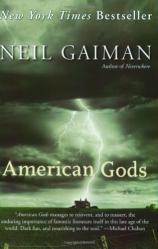 1. Where is Shadow at the beginning of American Gods? Where is he at the end? Of the many characters he encounters along the way, which did you find most memorable? What did you make of Shadow's obsession with coin tricks? How did you interpret his determination to participate in the vigil for Wednesday?
2. How does Laura die? Were you surprised by what happens at her funeral? How does she come to Shadow's aid? What explains the phenomenon of her persistence in the world of the living? How does Shadow release her from her state of limbo?
3. How would you describe Wednesday? How does he interact with Shadow at the start of the book? Did you find any of his grifter schemes especially entertaining? What is his connection to Odin? By the end of American Gods, what relationship between Wednesday and Shadow is revealed?
4. Who is Czernobog? How would you describe him? What is his relationship with the three Zoryas? What did you make of this group? What role did they play in Shadow's experiences?
5. "There are new gods growing in America ... gods of credit card and freeway, of Internet and telephone, of radio and hospital and television, gods of plastic and of beeper and of neon." How do you interpret this remark? Do you think there's any element of truth to it?
6. How would you describe Shadow's sojourn in Lakeside, Wisconsin? How do Hinzelmann, Chad Mulligan, Marge Olsen, and Missy Gunther treat their mysterious new neighbor?
7. Who is Alison McGovern and how does Shadow come to know her? What clue enables Shadow to determine her killer? What did you think of the outcome of this mystery?
8. "Would you believe that all of the gods that people have ever imagined are still with us today?" Shadow asks this question of Samantha Black Crow. Do you find this premise compelling? Did any elements of the plot of American Gods push this idea in interesting directions?
American Gods: A Novel
by Neil Gaiman
Publication Date: September 2, 2003
Paperback: 624 pages
Publisher: William Morrow Paperbacks
ISBN-10: 0060558121
ISBN-13: 9780060558123