Reading Group Guide
Discussion Questions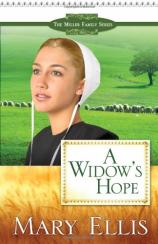 1. What will Hanna miss the most when she leaves Lancaster County, Pennsylvania behind?
2. How is remaining childless a more troubling possibility for an Amish wife than for an Englischer?
3. Why is Seth so fearful of his family's attempts at matchmaking?
4. Why hadn't Seth noticed his daughter Phoebe's shyness before Hannah arrived?
5. Why is he so reluctant to admit his child has a problem?
6. Emma is fascinated by her aunt --- how do Julia and Simon's opinions differ on Hannah's influence?
7. Does Simon hold Hannah to a higher standard of behavior than other members of his district?
8. Why is it easier for Hannah to help her brother, Thomas, with courting problems than herself?
9. Why is Hannah angered by Seth's idea to move her sheep to his farm?
10. Why is Simon really afraid if Seth and Hannah fall in love?
11. Why isn't Hannah honest with Seth about her shunning warning?
12. Why is Hannah reluctant to talk about her growing affection for Phoebe and the success she is having with the child?
13. Why does Julia eventually lose patience with her sister?
14. How does Simon grow as a Christian from the book's beginning to the end?
15. What must Hannah overcome to find happiness and contentment?
A Widow's Hope: The Miller Family Series
by Mary Ellis
Publication Date: March 1, 2009
Paperback: 300 pages
Publisher: Harvest House Publishers
ISBN-10: 0736927328
ISBN-13: 9780736927321