About the Book
About the Book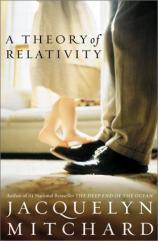 Few writers have captured contemporary relationships as succinctly and honestly as Jacquelyn Mitchard. Over and over again she shows us that the experience of love is messy, trying, complicated, heartbreaking, terrifying-and utterly worth it.
At the heart of this story is the love between Georgia and Ray, two characters whom we never meet, but who provide the impetus for the novel's chain of events. Their death brings together two vastly different families, each battling overwhelming grief; each fiercely determined to shape the destiny of the couple's child. Mitchard deftly brings a variety of family issues into play here: adoption and single parenting, marriage and divorce, physical and emotional maturation. With a sharp eye for detail, Mitchard points out the challenges of daily life with children--the endless unmatched socks and baby spoons, the tantrums and stranger anxiety, the colds and sleepless nights-while also showing us the unmitigated joy of being part of a child's world. And, as we experience along with the McKenna and Nye families the wrenching twists and turns of a convoluted legal system, she shows us how loss, anger, fear, and mistrust pull us apart-and how courage, love, and honesty bring us together.
The term "relativity" has many meanings, all of which come into play in this novel. But whether one refers to Einstein's theory concerning nature 's most fundamental laws, or the seemingly arbitrary rules that bind one family to another, Mitchard's most powerful message is revealed in the person of Keefer Kathryn Nye McKenna: in her intelligence and honesty, in her humor and optimism. "Related" to her parents or not, she is happy, and she is loved. That's not relative, that's real.
A Theory of Relativity
by Jacquelyn Mitchard
Publication Date: June 1, 2001
Genres: Fiction
Hardcover: 351 pages
Publisher: Harper Collins Publishers
ISBN-10: 0066210232
ISBN-13: 9780066210230