Reading Group Guide
Discussion Questions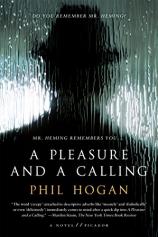 1. Did you think that Mr. Heming's problems and decisions were believable or realistic?
2. Talk about the secondary characters. Were they important to the story? Did any stand out for you?
3. Do you think that the unsettling nature of this novel stems from the fact that the crimes and trickery take place in the home, so are more believable than an unfamiliar location?
4. Talk about the location. Was it important to the story? Was the author's description of the landscape/community a good one?
5. What events in the story stand out for you as memorable?
6. What was more important, the characters or the plot?
7. Did you ever sympathize with Mr. Heming?
8. Did anything make you laugh?
9. Do you feel Mr. Heming's actions are justified revenge or just vindictive and malicious? Why?
10. Do you think A PLEASURE AND A CALLING is a fitting title for the content of this novel?
11. Critics have said that A PLEASURE AND A CALLING is reminiscent of Highsmith's THE TALENTED MR. RIPLEY, do you agree?
12. What do you think about the female characters in this novel? Were they portrayed in a positive way?
13. The author used the structural device of flashbacks; how did this affect the story and your appreciation of the book?
14. Was the ending what you expected? Did you feel it tied up all the loose ends? Would you have changed anything?
15. Finally, what else struck you about the book as good or bad? Were you glad you read this book? Would you recommend it to a friend? Did this book make you want to read more work by this author?
A Pleasure and a Calling
by Phil Hogan
Publication Date: January 5, 2016
Paperback: 288 pages
Publisher: Picador
ISBN-10: 1250081521
ISBN-13: 9781250081520