Reading Group Guide
Discussion Questions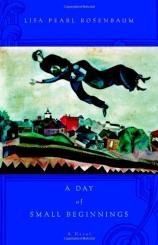 1. When we first meet Freidl, she speaks to us from the grave. Why is she so susceptible to Itzik the Faithless' entreaties for mercy from God that she would return to the living on his behalf?
2. One of the characters asks, How do you know who you are if you don't know where your family came from? (see, page 65) Why do you think this question might be of special significance for Americans?
3. Freidl's favorite saying from the Talmud is: Every blade of grass has its own guardian star in the firmament which strikes it and commands it to Grow! Why do you think this saying has such resonance for her? What does it mean to you?
4. The subject of Polish-Jewish relations is very prominently treated in this story. How would you describe the two peoples' attitudes towards one another and what do you think lies beneath those attitudes? Do you see changes in the nature of their relationship from 1906 to today?
5. Over the course of the novel, what changes take place in the characters' understanding of prayer and in their belief, or disbelief, in God?
6. What was required for Freidl to rest in her grave and what did Ellen do to help her? What do you think happened to Freidl at the end of the story?
7. How does Freidl affect the lives of Itzik, Rafael, Nathan, Ellen and Marek? How did they affect her?
8. How were Nathan, Ellen and Marek changed for having met Rafael?
9. Why didn't Itzik the Faithless tell his family why he left Poland? What were the consequences to his son and granddaughter for his having kept his past a secret?
10. How do you think things will work out between Ellen and Marek and why?
A Day of Small Beginnings
by Lisa Pearl Rosenbaum
Publication Date: November 3, 2006
Hardcover: 368 pages
Publisher: Little, Brown and Company
ISBN-10: 0316014516
ISBN-13: 9780316014519