Reading Group Guide
Discussion Questions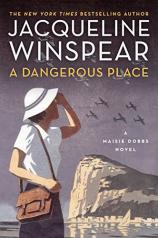 1. What factors --- geographical, emotional or others --- help explain why Maisie Dobbs settles in Gibraltar?
2. What are the various internal and external dangers that Maisie faces in this time and place?
3. Maisie is reluctant and feels "ill equipped" to investigate the death of Sebastian Babayoff, "but could not help herself." What are her various motivations?
4. What additional elements are added to the story because the victim is a member of Gibraltar's Sephardic Jewish community?
5. Maisie is said to wish to "unpick the knitting" of her previous four years and the recent profound tragedies she's experienced. What might this mean?
6. The trauma experienced at the death of her husband and child have Maisie's "blood running colder, hardening her heart." How does this affect her behavior during the investigation?
7. Maisie believes that investigating the murder of Sebastian Babayoff "would help her excavate something inside herself." What might this be? How might this process work?
8. Examine the complex politics of the time, as explained by Professor Vallejo. How does one go about determining, as Maisie tries to, who is on the side of good? In what ways do even the defenders of the good seem to act questionably?
9. Of particular importance to Maisie's stability is meditation. How does it serve her? Why does it require "courage" to practice?
10. Consider the various women in the novel --- Miriam, Priscilla, Mrs. Bishop, Francesca Thomas, Sister Teresa. What does each bring to the novel? What's the role of each in a time of war?
11. For Maisie, "solitude was her soul's hermitage." What does this mean? To what extent is solitude important? At what point might it be unhealthy?
12. What important insights and lessons recalled from Maurice Blanche help Maisie?
13. Maisie remembers Maurice's idea that physical place "changes a person's perspective." How does this work? How might the landscape of Gibraltar affect Maisie or others?
14. Considering Sebastian and a young photographer she sees in Madrid, Maisie wonders about the relationship between photographer and subject. Is viewing a subject through a camera lens a different kind of seeing? What are its benefits or dangers?
15. Maisie compassionately encourages Miriam to consider herself and suggests it will help her to better help others. What is a proper balance between tending to oneself and helping others?
16. What is the significance of Maisie's intense experience with the nurses? Why does she choose to return to Sister Teresa before going home to England?