About the Book
About the Book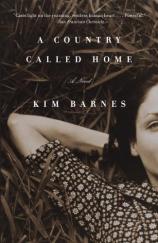 A lyrical novel deeply attuned to the rhythms of nature and of human consciousness, A Country Called Home contains a vast range of human experience and emotion --- birth and death, kindness and cruelty, passion and numbness, hope and despair. In telling the story of Helen and Thomas and the tragedy that befalls them in rural Idaho, A Country Called Homereveals the larger human story of love and loss, and of the secret emotional undercurrents that can so easily engulf us.
Thomas had always dreamed of living by a wild river, and when he marries Helen and convinces her to move to Idaho with him --- and to buy a broken-down farm, sight unseen --- it would seem his dream had come true. The year is 1960, and the young couple is fleeing the East Coast and the stifling influence of Helen's wealthy parents. But once they arrive in Idaho things begin quickly to go wrong. Thomas is a doctor with an aversion to practicing medicine. His love of fishing and lack of interest in making money force them to live close to the bone. When Helen gives birth prematurely to twins, the second child is born dead. Instead of grieving together for the child, they quickly bury him, with no ceremony or ritual to honor his death, and he is never spoken of again. The pain of that secret loss, known only to Thomas and Helen, casts a shadow over all that follows. Thomas retreats into a solitary world of fishing, loafing, and eventually drug addiction, leaving Helen to care for their daughter, Elise. Helen's loneliness and isolation become so intense that she turns for comfort to Manny, the young man they've hired to help run the farm, and takes the first step that will draw her away forever.
A Country Called Home offers an unflinching look at how dreams can go awry and at the pain human beings can both inflict and endure. Family life in particular is fraught with suffering in this story --- children are abused, neglected, and abandoned. But it is the moments of connection, of real tenderness --- especially those between Manny and Elise, Manny and Dr. K, and Elise and Lucas --- that offer glimmers of hope. These hard-won instances of genuine connection and compassion, rendered with such honesty and emotional nuance, push back against the darkness that seems to hover over all the characters and, in the end, tip the balance of the novel toward hope.
A Country Called Home
by Kim Barnes
Publication Date: October 6, 2009
Genres: Fiction
Paperback: 288 pages
Publisher: Anchor
ISBN-10: 0307389111
ISBN-13: 9780307389114