About the Book
About the Book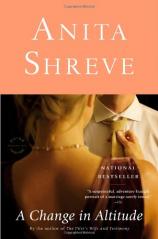 Twenty-eight-year-old Geraldine travels to Kenya with her new husband James with the intent of staying a year. In a dizzying multicultural city, she struggles to maintain her balance as well as her sense of self. Her marriage, and her understanding of the world, are shaken to the core.
Invited on a climbing expedition to Mt. Kenya, the newlyweds are caught up in a horrific accident. In its aftermath, Geraldine must try to understand exactly what happened on that mountain and what it has done to her and to her marriage.
A major author in terms of critical acclaim and bestseller status, Anita Shreve limns the secrets at the core of our closest relationships and the ways in which lives can turn on the axis of a single catastrophic event.
A Change in Altitude
by Anita Shreve
Publication Date: May 4, 2010
Genres: Fiction
Paperback: 336 pages
Publisher: Back Bay Books
ISBN-10: 0316020710
ISBN-13: 9780316020718