2016 BookExpo America Speed Dating Event for Book Groups
Special Feature
2016 BookExpo America Speed Dating Event for Book Groups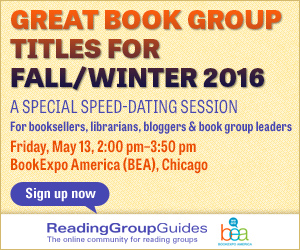 On Friday, May 13th, from 2:00pm to 3:50pm at BookExpo America, ReadingGroupGuides.com will host its 5th Annual Book Group Speed Dating Event. Representatives from more than a dozen publishers will be in attendance to share selections and book group news from their publishing houses in a speed-dating format designed to give booksellers, librarians, book group leaders and bloggers an inside look at what book groups will want to know for fall and winter. Galley giveaways and ideas for enhancing book group discussions will be part of this event. Advance signup is required by Tuesday, May 3rd at noon ET. Seating will be assigned. Fill out this form to sign up.
Please note: You must be registered to attend BookExpo America in order to attend this session. If you are not, click here to register.
We know that some of you who typically attend our ReadingGroupGuides.com Annual Book Group Speed Dating Event will not be heading to Chicago. We are gauging interest in a similar Manhattan-based event in late May or June. If you are interested in this event, please fill out this form. Bear in mind that there are no firm plans for this event at this time --- we are merely exploring level of interest.