What's Your Book Group Reading This Month?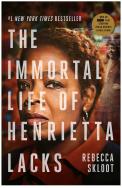 Each month, we ask book groups to share the titles they are reading that month and rate them. From all entries, three winners will be selected, and each will win 12 copies of that month's prize book for their group. Note: To be eligible to win, let us know the title of the book that YOUR book group is CURRENTLY reading, NOT the title we are giving away.
This month's prize book is the movie tie-in edition of THE IMMORTAL LIFE OF HENRIETTA LACKS, Rebecca Skloot's #1 New York Times bestseller that captures the beauty and drama of scientific discovery, as well as its human consequences. To enter, please fill out the form below by Thursday, April 6th at noon ET. The film adaptation, starring Oprah Winfrey and Rose Byrne, will premiere on April 22nd at 8pm on HBO.
Fill out the form below: